1)研究論文→2)学会発表→3)メディア→4)査読者
1)研究論文
これまで27本の研究論文を掲載。以下は、主なここ数年の研究論文
Iwatsuki, T. & Van Raalte, J. L. (2023). Instructional Self-Talk, Performance, and Learning: Current Status and Future Directions. Review of Self-talk and Performance in Real-World Settings. In Thibodeaux, J, & Dickens, Y. American Psychological Association.
Iwatsuki, T. & Van Raalte, J. L. (2022). The Use of Self-Talk in Closed Self-Paced Motor Tasks. Psychology of Closed Self-Paced Motor Tasks. In Lidor, R., & Ziv, G. Routledge.
Mousavi, M. & Iwatsuki, T. (2021). Effect of autonomy and expectations for success on motor skill learning in children. Journal of Motor Learning and Development. (Link) (Impact factor [IF]: 1.5)
Iwatsuki, T., Hui-Ting, S., Abdollahipour, Z., & Wulf, G. (2021). More bang for the buck: Autonomy support increases muscular efficiency. Psychological Research, 85, 439-445. (Link) (IF: 2.7)
Hagiwara, G., Funamori, H., Matsumoto, M, Akiyama, D., Iwatsuki, T. (2021). Relationships among athletic identity, mental health and social support in Japanese student-athletes during the COVID-19 pandemic. International Journal of Environmental Research and Public Health, 18, 7032 (Link) (IF: 3.4)
Iwatsuki, T., Navalta, J., & Wulf, G. (2019). Autonomy enhances running efficiency. Journal of Sports Sciences, 37(6), 685-691. (Link) (IF: 4.0)
Chua, L., Katrina, D. M., Iwatsuki, T., Abdollahipour, Z., & Lewthwaite, R., & Wulf, G., (2019). Practice variability promotes an external focus of attention and enhances motor skill learning. Human Movement Science, 64, 307-319. (Link) (IF: 2.5)
共同研究者
2)学会発表
34回の学会発表を経験。以下は、主なここ数年の発表を紹介
Iwatsuki, T. et al. (2022). Optimizing motor skill acquisition among older adults. North American Society for the Psychology of Sport and Physical Activity. (NASPSPA), Hawaii.
Iwatsuki, T., & Mousavi, M. (2021). Effect of autonomy and expectations for success on motor skill learning in children. NASPSPA.
Iwatsuki, T., & Regis, J. C. (2020). Enhancing expectation through providing relatively easy criteria for success enhances motor learning. NASPSPA.
Abdollahipour, Z., Iwatsuki, T., & Shih, H. (2019). Autonomy support enhances movement efficiency. Australasian Cognitive Neuroscience Society (ACNS), Australia.
Iwatsuki, T., & Otten, M. (2019). Providing choices enhances motor performance under psychological pressure. Association for Applied Sport Psychology (AASP), Oregon.
Iwatsuki, T., Shih, H., Abdollahipour, Z., & Wulf, G. (2019). More bang for the buck: Autonomy support increases muscular efficiency. NASPSPA, Maryland.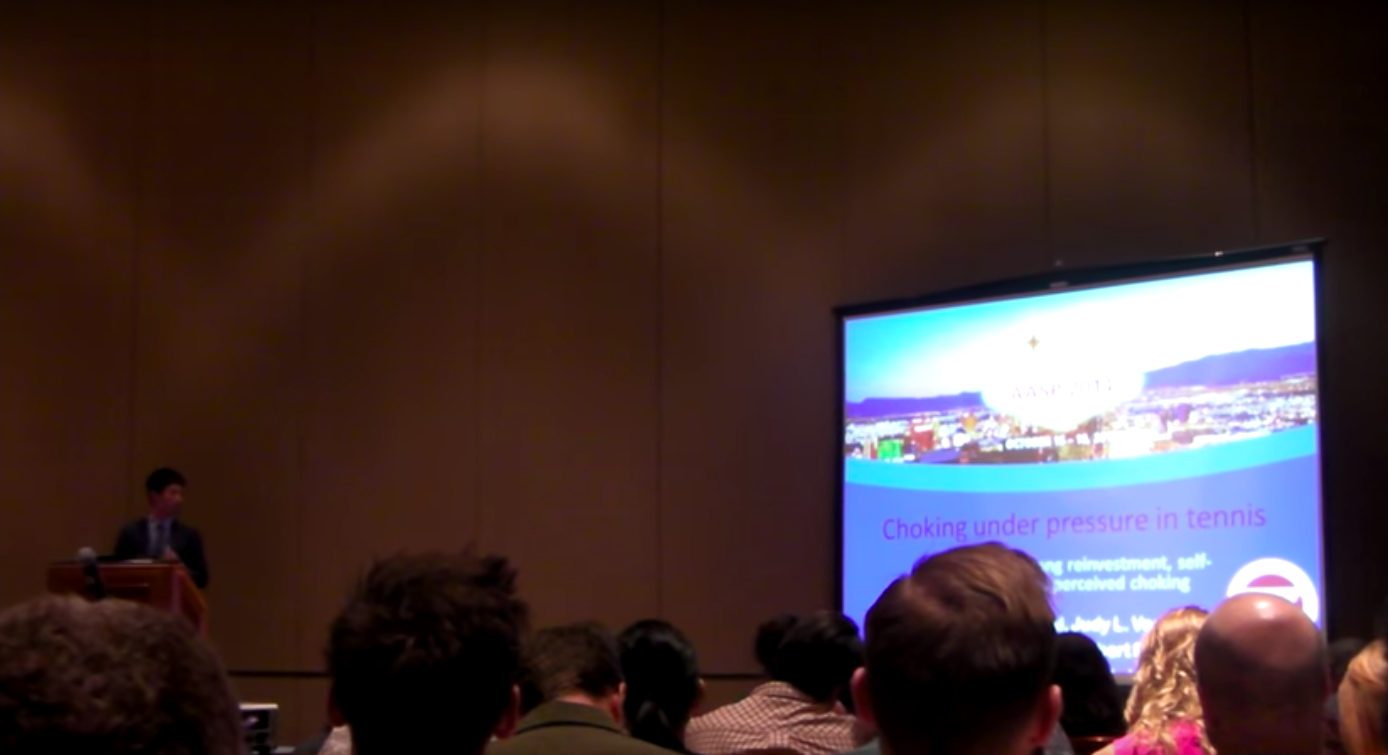 3)メディア
Runner's World: "To Run More Efficiently, Follow Your Bliss" (Article)

フォローワー数2億人の団体「ランナーズワールド」が、ランニングの効率良い方法として研究を特集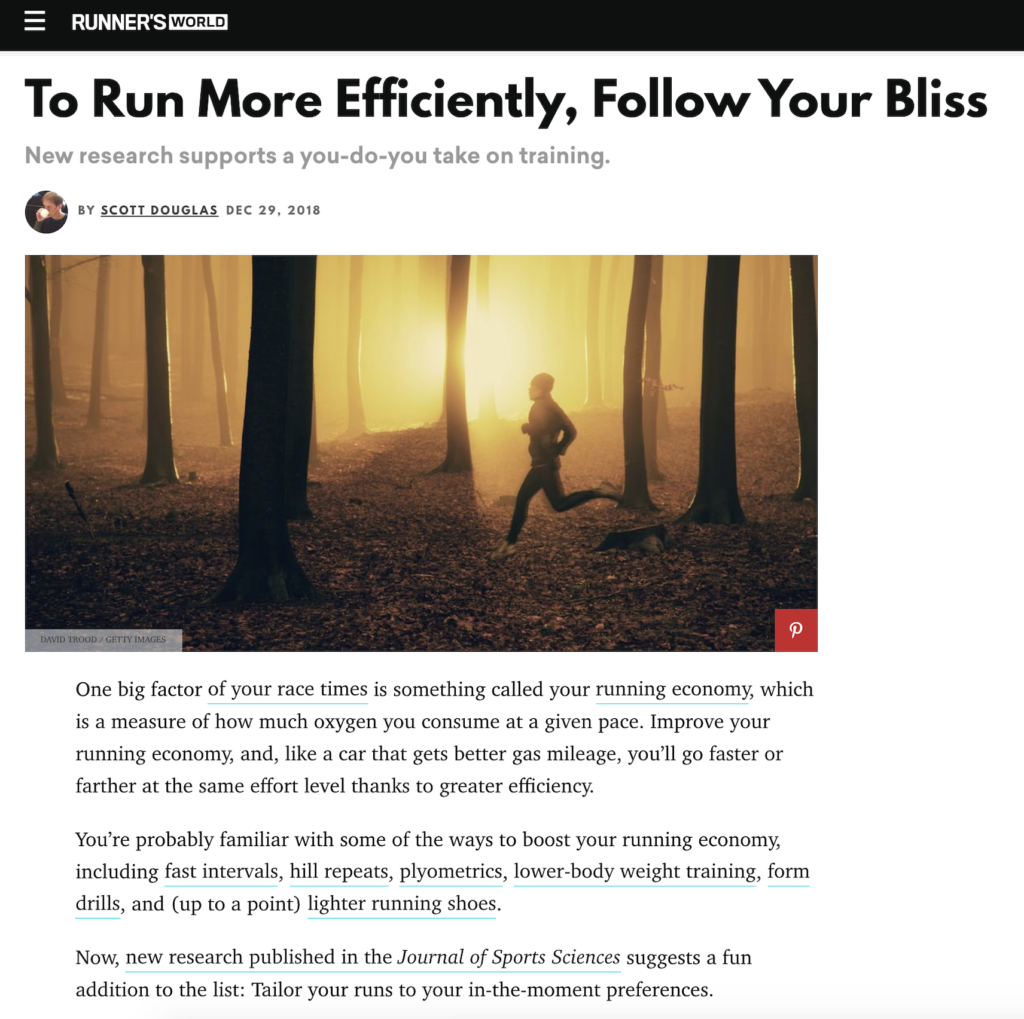 4)査読者・研究評価者
NASA(アメリカ航空宇宙局)のHuman Exploration Research Opportunities Research(研究評価者, 2020-2022)
International Journal of Psychological and Brain Sciences (エディター, 2019~)
Journal of Digital Life (エディター, 2021~)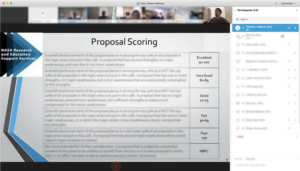 過去に査読者としてお願いされたジャーナル名(100回以上の査読経験)
Frontier in Psychology, Medicine & Science in Sports & Exercise, Brain and Behavior, International Journal of Psychological and Brain Sciences, Psychological Medicine, European Journal of Applied Physiology, European Journal of Sports Science, Instruction and Learning, Educational Research Review, American Journal of Physical Medicine and Rehabilitation, Psychological Research, Journal of Sport Sciences, PLoS ONE, Frontier in Human Neuroscience, Perceptual and Motor Skills, Human Movement Sciences, Psychology of Sport & Exercise, Journal of Motor Behavior, Sport, Exercise, and Performance Psychology, The Quarterly Journal of Experimental Psychology, International Journal of Environmental Research and Public Health, Journal of Sport Psychology in Action, Journal of Sport Behavior, International Journal of Developmental Disabilities, Motor Control, Journal of Sport Behavior, Kinesiology, Translational Journal of the American College of Sports Medicine, International Journal of Exercise Science, Research Quarterly for Exercise and Sport, International Journal of Sport and Coaching Sciences, Sport Psychologist, Brain and Behavior